Available Opportunities
Road-only Services
These are your "everyday" breakdowns including: lockouts, jumpstarts, tire changes, and fuel deliveries.
Towing Services

All towing services, including winching. You can choose to perform any of the following, depending on your fleet capabilities:
Light Duty
Medium Duty

GVWR in excess of 10,000 lbs, or 21+ feet in length.

Heavy Duty

GVWR in excess of 20,000 lbs, or 31+ feet in length.
Attention towers: We're running a summer sweepstakes program and every tow's your chance to win weekly prizes. You, your dispatchers, and your drivers are all eligible for this program the minute you join our network. Plus, your drivers may be eligible for our grand prize: a brand new Ford F-150! Don't miss out on this opportunity.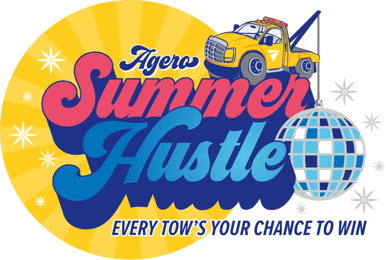 Mobile Mechanic Services
Our Mobile Mechanic providers complete on-scene repairs for Medium and Heavy Duty vehicles in our Fleet and Recreational Vehicle space. These services include engine repair, computer diagnostics, exhaust, belts and hoses, sheet metal, as well as general RV repair. In addition, a subset of our Mobile Mechanic providers perform tire delivery service and on-scene installation.
Accident Scene Management Towing
Our Accident Scene Management (ASM) program services high priority dispatches, which may include accidents or customers that are enrolled in a premium service. An ASM tow requires a service provider to respond to the disablement scene with an expedited ETA, obtain the vehicle, and move it to the designated repair facility.
Vehicle Release Management (Secondary) Towing with Payout
Deliver vehicles from an impound or storage yard to a designated body shop. You may be asked to advance funds in order to release the vehicle on behalf of Agero. Advanced funds will be reimbursed upon proper billing.
IRS Information
We need this information to accurately provide year-end statements (1099) to your business and the IRS.
Agero needs your Taxpayer Identification Number (TIN). For corporations, LLC's, and other business entities, your TIN equals your Employer Identification Number (EIN). For individuals, sole proprietors, and single-member LLC's, your TIN equals your social security number. Please only fill out ONE of these fields. Why should you use an EIN as a sole proprietor?
We require an electronic signature confirming that all of the information entered into the form on the right is certified. Click to view a sample W-9 form for all certification details, listed under "Part II Certification."
Insurance Coverage
Depending on the types of services you'll provide, Agero requires the following insurance coverage as a minimum:
Requirements

Coverage

Commercial General Liability

Per occurrence

General aggregate limit applies per policy

Additional insured

$1,000,000/occurrence

Commercial Auto Liability

At least for owned autos, hired autos, and non-owned autos, with any auto preferred

Additional insured

$1,000,000/occurrence

(Combined single limit, bodily injury, property damage)

On Hook/Cargo

Required for towing services

$150,000/occurrence

Garagekeeper's Insurance

Required if you store vehicles at your facility

$150,000/occurrence

Workers Compensation

For all employees, with evidence of meeting state minimums

Certificate Holder

Agero Administrative Service Corp.




c/o PlusOne Solutions, Inc




3501 Quadrangle Blvd, Suite 120




Orlando, FL 32817
Note: Commercial Auto Liability coverage is still a requirement even if you only provide road services.
Background Checks
As a contracted Agero Service Provider, you will be required to upload evidence of your completed background checks on any member of your business who performs Agero services, or handles information pertaining to Agero. See the full list of requirements here.