Click Here to Download Our Guide

Where we will be working: Settings > Users Tab

If you are managing users for the first time, you will only see the user account that you created for yourself.

Creating New Users is very easy.
Click the Create User button at the top right of the window.

You will then be presented with a Create New User window.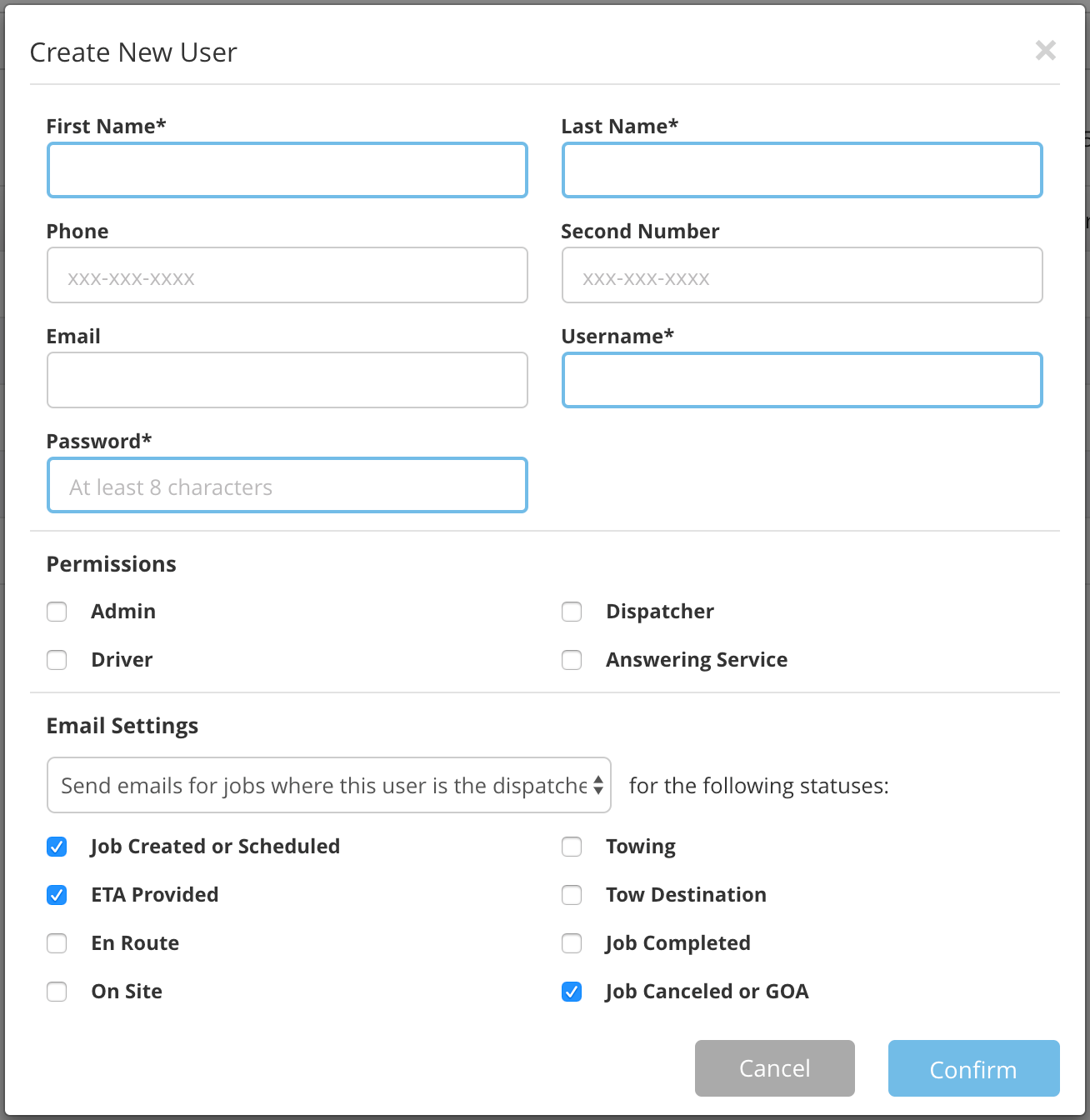 All fields highlighted in blue are required. Included below is context for a few fields.
Phone: It is IMPORTANT for drivers to have their cell phone numbers input into this field. Swoop sends drivers notification phone calls & text messages when new jobs are assigned to them.
Username: First name+last initial usually works best (for example, John Doe would be JohnD)
Password: Only requirement is that it contains 8 characters.
Permissions: Please note that users can have multiple permissions. If users have multiple permissions, the access adds on and does not take away anything. The following user types have these permissions:
Admin: Has access to every aspect of Swoop, including dispatching jobs.
Dispatcher: Has access to the Dashboard, Fleet, Reviews, Storage, Accounts, Rates, Sites, Trucks; Does Not Have Access to: Invoices, Reporting, Places, Users, Company Settings
Driver: Jobs may be assigned to this user as a driver.
Answering Service: Only has access to Dashboard & Fleet. Strictly dispatching only.
Once you create all of your users you can always go back and make changes to the user account at any time.

To edit an existing user, simply click the edit pencil icon next to the user's first name.

To delete a user, click the X at the far right of the user information. Only delete users you are absolutely sure will never use or need access to the system.

You will then be asked to confirm that you want to delete the user. Click "Delete" to confirm.

If you deleted a user by accident or need to recover their account, please contact support and they will help recover the account.
Search User (For Larger Companies)
If you have a large number of users, you can use this to quickly pull up the user you are looking for. Any information in the user information can be searched such as email address, phone number, or name.

If you have any questions, please reach out to the Provider Advocate Group by submitting a ticket or live chatting with an agent, both available at info.agero.com/network.